Open Education Global Web-a-thon – 2019 edition
Tags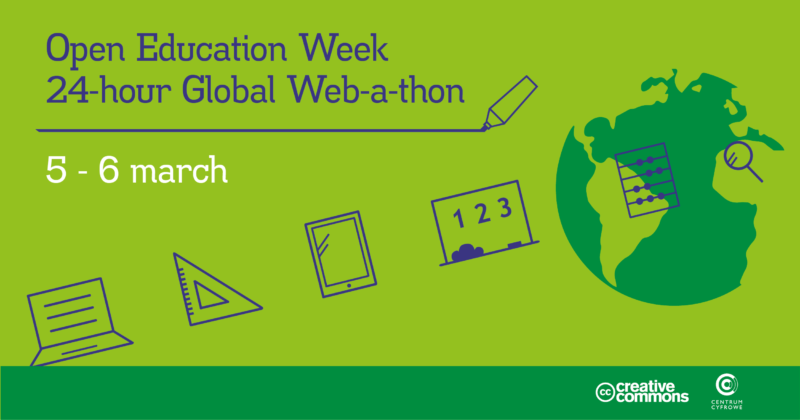 Join us for the 2nd Global Open Education Web Conference
Last year, the Creative Commons Open Education community hosted a 24-hour global Web-a-thon: an around-the world, in multiple languages, series of webinars to share the good work you're all doing.
This year, we are building on the success of last year's event and organizing the second 24-hour webinar sprint on March 5-6 (depending on your time zone).
The Web-a-thon is just like any of the global open education summits – only happening online. You can meet fellow activists and experts, learn about their projects and ideas, and share your own work.
How to participate
We encourage you to keep it simple and participate!
Each slot will run for 25 minutes, during which you can:
Present the state of open education in your country
Share experiences from your activism or a project that you run
Try a talk that you've been working on
Or give a virtual version of a talk you presented at an event in 2018
We are also happy to host longer discussions between several speakers.
We are also looking for people or organizations that will help coordinate the Web-a-thonin their community or region. This includes finding speakers, promoting the event, and moderating sessions. We are happy to include you as a co-organizer of the event!
All sessions will be in CC's Uberconference room – a low-bandwidth meeting space accessible by web, mobile or phone #. All presenters will be given login credentials so they can record their session audio and chat.
Sign up by entering your information on this spreadsheet. Please select an open time slot. We have one videoconference room, so we will will not be running parallel sessions. (If there is a timing conflict, please contact us, and we will try to sort it out)
Deadline for Submissions: February 19
After we receive your submissions, we will share all of the session information with our friends at the Open Education Consortium who organize open education week.
Thank you for joining us in celebrating global open education!