Open Education Policy Forum 2018
Countries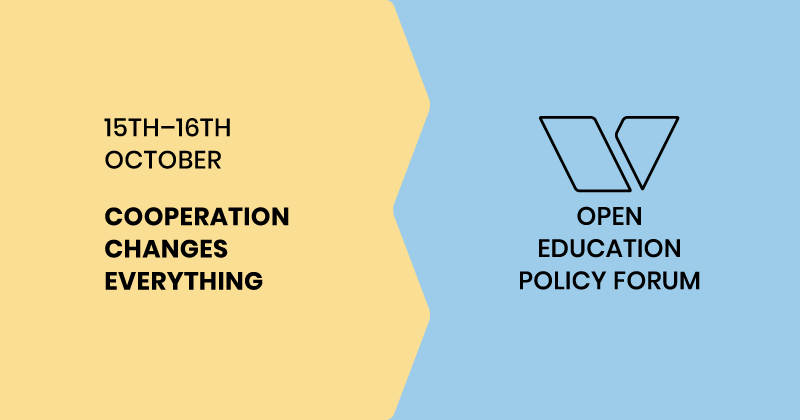 The Open Education Policy Forum will take place for the third time on October 15-16 in Warsaw, Poland. The aim of the Forum is to empower policymakers, experts and activists working on policies that support open education by providing an opportunity for networking, exchange of knowledge and future collaborations.
This year's theme is "Cooperation Changes Everything". We want to focus on the issue of better cooperation: between governments, experts and educational communities; between countries and at national level – within the Open Education coalitions, within the European Union, and with other open movements (such as the Open Access or Open Data movements).
As in previous years, we will also discuss core topics related to open education policies in Europe, such as: open licensing policies, teacher training and digital skills, content repositories and infrastructure, open pedagogy and copyright law for education.
The Forum will bring together around 40 experts, officials and stakeholders, and engage them in two days of active debate, through workshops, short presentations and small group discussions. We avoid keynotes and panel discussions, to enable active engagement of all participants.
If you are interested in participating in the Forum, please register at the following link.
15th of October (registration starts at 12:00)
The first day is dedicated to discussing the vision of open education policies in Europe – what kind of policies do we want to support, and how do we need to adapt them to meet the needs of a changing educational system, and technological landscape? We will also highlight new perspectives and developments in open education.
1:00 pm Workshop on the theme of "New Directions for Open Education"
We will start the day with a workshop that builds on the 10th Annivesary of the Cape Town Declaration. We will use the 10 new directions for Open Education defined on the Anniversary to discuss new directions in which we want to develop together open education policies. As in previous years, we want to use the Forum to ask together the questions: what is new? where is open education going? what are the challenges and how are we solving them?
We will use the Open Space Technology method to discuss collectively these directions and find answers to following questions:
What kind of cooperation do we need?
What can we improve through cooperation?
What projects are being done in each area that can be seen as good practices worth promoting, deveoping and collaborating on?
The workshop will be hosted by Nicole Allen (SPARC) and Alek Tarkowski (Centrum Cyfrowe).
5:00 p.m Lunch Break
After the workshop we invite all participants for lunch
6:00 p.m Open Break – talks about open education
In the evening, we will invite Forum participants together with invited members of Warsaw's education community to attend a series of short talks highlighting a range of crucial issues related to open education. We hope that the session will provide inspiration and allow everyone to recharge batteries with positive energy. List of Speakers:
Maren Deepwell

from the Association for Learining Technologies (UK)

Aleksandra Czetwertyńska

from Centrum Cyfrowe (PL)

Christer Gundersen from

from  The Global Digital Library (No)

Marek Mansell

from Slovak Python User Group (SK)

Øivind Høines

from Norwegian Digital Learning Arena (No)

Alex Grech

 from

the

Commonwealth Centre for Connected Learning (MT)

Klaudia Grabowska

from Polish Coalition for Open Education (PL)

Agnieszka Bilska

from Superbelfrzy: an informal professional development group for Polish teachers  students from primary school (PL)

Ola Bernatowicz student from primary school (PL)
8:30 to 11:00 pm Policy dinner
We will end the evening with a policy dinner at the venue.
16th of October (the Forum starts at 9:00)
The second day of the Forum will be devoted to discussing ongoing policy processes and ways to develop them further. The Program includes a knowledge sharing session and two half-day workshops on policy development.
We want to highlight policy developments, which recently included a range of policy work across Europe (presented in the JRC report on "Policy Approaches to Open Education") and the Ljubljana OER Action Plan, adopted by UNESCO members.
9:00 am Policy knowledge sharing session
The session will include a range of talks about ongoing policy developments at national, European and international level. Speakers will present following topics:
Policy Approaches to Open Education – Fabio Nascimbeni (

Universidad Internacional de la Rioja

)
The UNESCO OER Recommendation – Gasper Hrastelj (the Slovenian National Commission for UNESCO)
The Link Between Policy and Sustainability – Igor Lesko and Paul Stacey (Open Education Consortium)

11:30 – 2:00 pm Two workshops to choose from
Open Education Policy Co-Creation workshop
This workshop aims at facilitating strategies for policymakers and other stakeholders to design Open Education Policies by using an open education policy-making toolkit (adapted from a policy design methodology developed by the UK policy lab). The objective of this game based workshop, grounded on a co-creation approach, is to provide the participants a wide range of perspectives, elements, opportunities and challenges when designing policies that foster openness education by discussing scenarios and problems that can be addressed by democratising access to education and to educational resources.
This session will be facilitated by Javiera Atenas (Open Education Working Group) and Fabio Nascimbeni (UNIR).
Relaunching the OER Policy Registry on OER World Map (workshop)
The workshop will concern the OER Policy Registry, which we envision as an important tool to support Open Education policy development and mainstreaming in Europe and worldwide.
In Spring 2018, Creative Commons and the OER World Map agreed to migrate the OER Policy Registry (which until now has been provided by Creative Commons) to the OER World Map. The relaunch of the OER Policy Registry includes the opportunity to refine the technical platform as well as its associated operating model.
The workshop held at the OER Policy Forum 2018 in Warsaw aims at collecting user stories and ideas for the relaunch of the policy registry provided by experienced OER policy practitioners and experts. Concrete questions discussed during the workshop will be:
What functionality should the new OER Policy Registry provide to support OER policy makers and experts?
How can policies be described and clustered in useful ways?
How could a group of global OER experts 

update, maintain and use

the Policy Registry?
All participants of the forum are invited to share new policies on the OER World Map from now on. More information on how to do this can be found here.
This session will be facilitated by  Jan Neumann (hbz / OER World Map).
2:00 – 3:00 pm Lunch break
3:00 – 4:00 pm World Cafe Session – share your experiences concerning Open Education policies
We will end the Forum with a World Cafe session, in which participants of the Forum will have another chance to share their experiences and discuss issues that are particularly relevant to them.
As in the previous years, we will bring to Warsaw leading people working on open education policies across Europe. We create for them an opportunity to meet each other, to exchange know how and information about best practices, and to cooperate. Among the people who actively contribute to the Forum are:
Open Education Policy Forum is organized with the support of the William and Flora Hewlett Foundation and the Open Society Foundations.