Open Education Week Global 24-Hour Web-a-thon!
Tags
Countries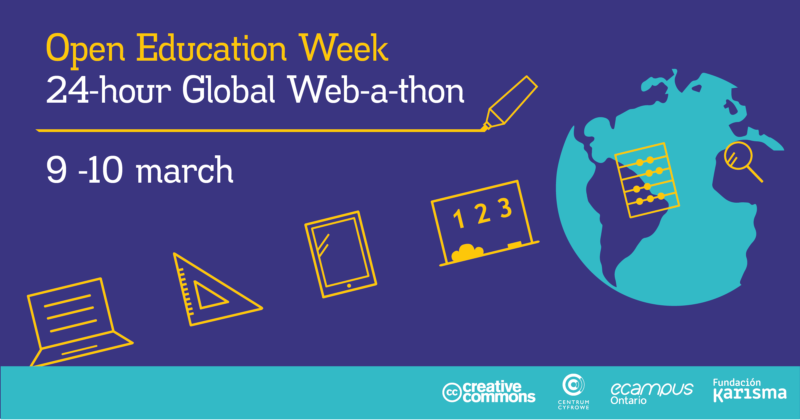 How is your Open Education Week going? Yes, it's NOW – March 5-9, 2018. Centrum Cyfrowe like many others institutions and organizations around the world is preparing something special.
Open Education Week gives us every year an opportunity to raise awareness about free and open educational opportunities for everyone, everywhere, right now. It is also the opportunity for sharing of our ideas, experiences and information.
Centrum Cyfrowe, Creative Commons, Karisma and eCampusOntario would like to take this opportunity and invite you to OEWeek Global 24-Hour Web-a-thon!
What is OEWeek 24-Hour Web-a-thon? This is an international webinar with 30 sessions, most of them in English but some in Spanish and even one in Romanian! We've gathered experts from various countries and asked them to run discussions about open education (including policies), use of OER, open pedagogy/practices. Sessions will run over a 24 hour period – we start at 12 am on March 9 (UTC).
Check the schedule – everyone will find something interesting! http://bit.ly/OEWeekGlobalWebathon2018
Sessions will be conducted using the Zoom webconferencing solution.
Zoom Webinar Link https://ecampusontario.zoom.us/j/857734334