OER and Copyright: mapping exempted uses in Europe
It is well known that the rules that allow for certain educational uses of copyrighted works under certain conditions without permission of the rights' owners vary greatly between countries. But how different are those rules? And how difficult is to access those differences? Can a teacher with no legal background determine alone whether a certain use is allowed or not in his/her country?
We are answering these questions in a new working paper titled "Educational Resources Development: Mapping Copyright Exceptions and Limitations in Europe", prepared by Teresa Nobre (Legal Lead of Creative Commons Portugal). The study is an investigation of the fragmented European landscape of copyright exceptions and limitations for educational purposes, across 49 European states.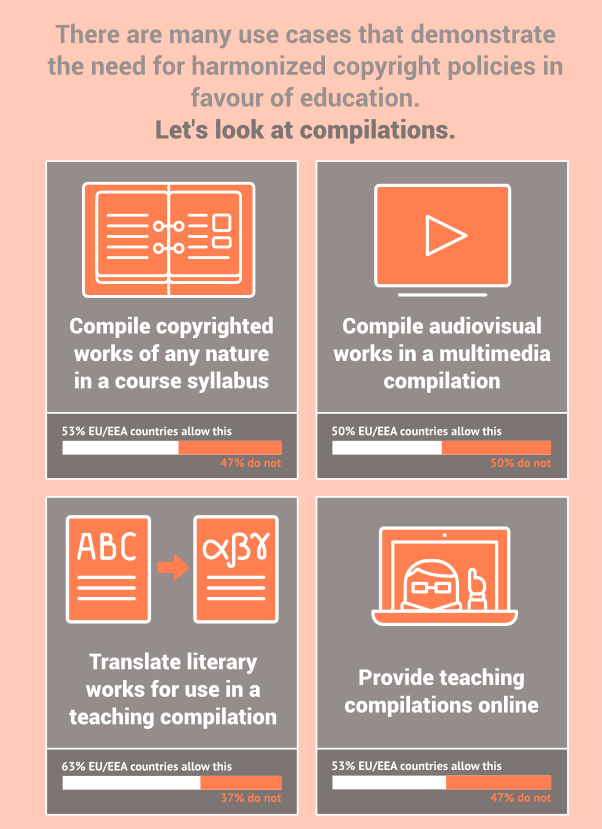 Why are we studying educational exceptions and limitations to copyright?
As part of the Creative Commons project "Open Educational Resources Policy in Europe", we have examined the limitations and exceptions (L&Es) to copyright that coexist within the European territory and that have an impact in the development of educational resources, specifically:
quotations exceptions,
teaching compilations exceptions, and
other exceptions and limitations for educational activities dealing with inclusion of copyrighted works in original form in educational resources and with alteration of copyrighted works for purposes of creating educational resources.
We intend to understand the obstacles faced by teachers in each of the countries analyzed The shape of L&Es translates into limits to the free usage of content in education – and the more complicated the rules are, the more difficult they are for educators to follow. Furthermore, we want to facilitate the comparison of the relevant national L&Es within the European territory by any interested parties and, hopefully, help teachers, schools and educational resources platforms identifying more easily which uses of copyrighted works are allowed in their countries for purposes of producing and disseminating educational resources.
A previous study, conducted in 2009 by Professor Raquel Xalabarder, from the Universitat Oberta de Catalunya (Barcelona, Spain), within the framework of the WIPO SCCR, had already analyzed this issue in detail. However, the length of the study and its descriptive nature made it difficult for readers to get a quick overview of all the national laws and easily compare them all.
Therefore, we decided to engage in this complex task of making it easier for readers to assess the permissibility of those acts that are necessary to create new educational resources which use copyrighted works by way of quotation or otherwise. We have decomposed the legal provisions into what seem to be their essential elements and presented the results in yes/no format tables covering over 40 European countries.
The preliminary results are satisfactory to understand how discouraging is the legal scenario for the development and dissemination – across Europe – of educational resources that make use of copyrighted works, notably in digital and online educational contexts. For example, as shown in Table 3, 28 of the 32 countries that compose the first group of European countries analyzed (members of the EU, members the EEA and Switzerland) permit the creation of compilations of copyrighted works for educational purposes. However, 39,3% of those countries do not exempt the acts of use necessary to provide those compilations online. This is either because the legal provisions specifically limit the use of the compilations to face-to-face teaching or because the rights listed in the legal provisions – intentionally or not – do not include all the rights necessary to use and share the teaching compilations online.
Synergy between OERs and exceptions and limitations and OERs
The Open Educational Resources model has been traditionally seen as avoiding altogether the standard copyright regulations, by relying on a voluntary, free licensing model that establishes broad user rights for educators. The fragmentation of L&Es further proves the importance  of open licenses for the development and dissemination of educational resources.
Yet it is impossible for educators and learners to rely just on OERs. As Creative Commons already started, no matter how well crafted a public licensing model is, it can never fully achieve what a full set of open-ended and flexible statutory exceptions and limitations for educational purposes can. Only with a legal reform in place can we see an end to this balkanization of legal solutions and treat education as it deserves to be treated – as an exception to copyright and related rights.
We hope that the results of the study will provide evidence, within the current debate on copyright reform in Europe, for the need to further harmonize user rights in education. The study shows that L&Es are highly varied and fragmented throughout the European Union, despite the promise made within the European Copyright Directive (EUCD) to harmonize and and protect user rights.
Find out more – download our study.
In parallel to the release of the working paper (PDF, ODT, DOCX), we are releasing the Excel versions of the comparative tables presented in the paper (XLS, ODS), which contain several comments to the data analyzed. We are also releasing a compilation of the legal provisions examined (PDF, ODT, DOCX). Finally, we have selected some of the data related to the EU member states of the EU, the EEA member states and Switzerland and we have invited the team from Journalism++ Porto to produce some nice infographics (PDF – one page, PDF – bundle (ZIP), PNG – one page, PNG – bundle (ZIP), SVG – one page, SVG – bundle (ZIP)), such as this one: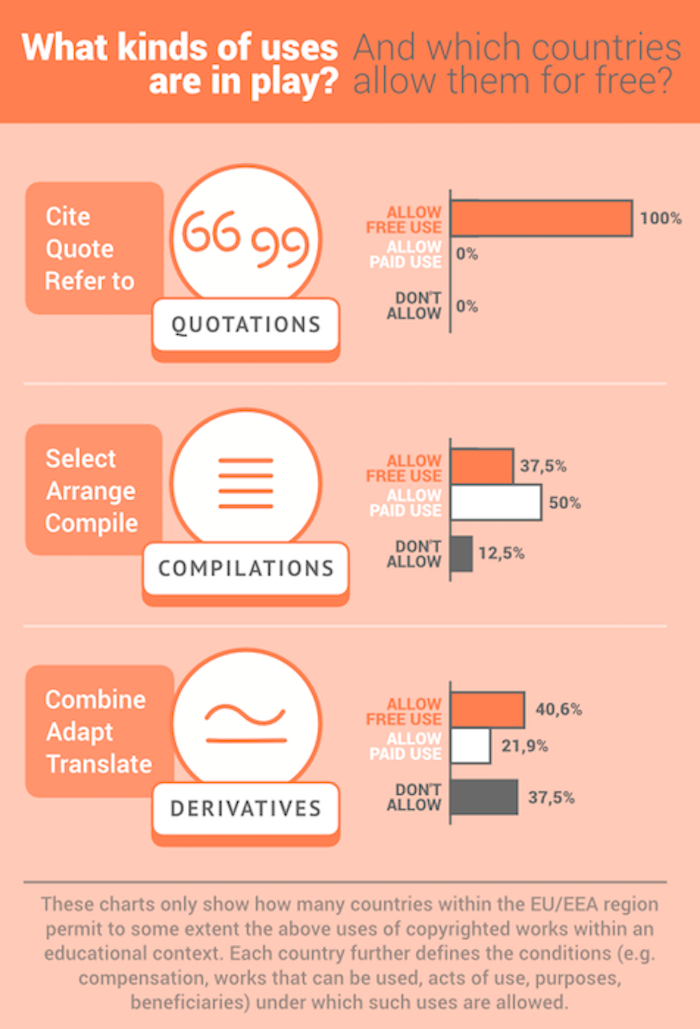 We need your help with developing this study further!
Please note that this is a working paper. Please do not rely solely on this work to assess the permissibility of the acts analyzed herein.
For this working paper, the non-official translations of the national laws available online were the only resource used. The language contained in legal provisions can be vague and unclear, thus we invite local legal experts to provide us with the necessary input to interpret correctly and to update the legal information gathered herein.
We invite stakeholders, namely local copyright lawyers and local experts in education, to provide us with the necessary input to interpret the legal information contained herein and update this work accordingly. Specifically, we invite stakeholders to inform us:
if the relevant law provisions analyzed herein are updated;
if the relevant law provisions analyzed herein are correctly translated;
if there is any relevant law provision missing from the analysis; and
if there is any local case law or specialized literature providing a different interpretation of the law provisions analyzed herein.
Please send your feedback and comments to Teresa Nobre at creativecommons[dot]pt[at]gmail[dot]com.