VENUE, TRANSPORT AND SOME USEFUL TIPS
Open Education Policy Forum workshop will take place on SAPIEŻYŃSKA 10a street. Prounanciation the name of the Street might be tricky for you 😉 So if you take a cab, we recommend to write it down 😉
The venue is hosted by Stefan Batory Foundation. The mission of the Stefan Batory Foundation is improving the quality of Polish democracy and developing international cooperation and solidarity.
The venue is located close to the Old Town and the Saxon Garden and Krasinski Park. After short walk you can aslo find herd of Pegasus 🙂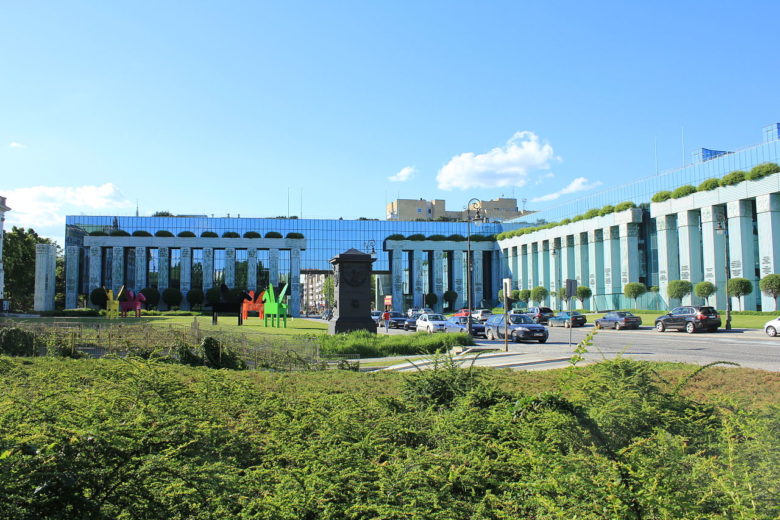 HOTEL RECOMMENDATIONS
TRANSPORTATION OPTIONS FROM THE AIRPORT
OKĘCIE (Chopin airport)
Typical fare to the city center is located is around 40 PLN (approx. 10 EUR) The taxi companies recommended by the airport authorities are Merc Taxi, MPT Radio Taxi, Ele and Sawa Taxi.

Bus 175 departs from the Chopin Airport every 7 minutes during the rush hour. You should get off at the last stop: Plac Piłsudskiego to find yourself in the old town area. The ticket suitable for the transport to the city center is transfer ticket (4.4 PLN = approx. 1EUR) that allows for an unlimited number of rides for 75 minutes from its validation.
MODLIN airport
There is a train from the airport to the center, going quite frequently and it takes about an hour altogether – please see here. Also, there is a special bus taking about 40 mins as the website says, more info here. Taxi is possible but expensive.
Money
The Polish currency is Złoty (PLN).
1 EUR = 4.17 PLN, 1 USD = 3.74 PLN
You usually CANNOT pay in Euro or US dollars. You can change money at the airport or train stations, but change as little as possible there since exchange rates at this point are bad. Otherwise, you can use one of the many ATMs or exchange offices across the city.
Public Transport
To find your way around, you can use http://warszawa.jakdojade.pl/?locale=en

Warsaw is served by a broad and reliable network of buses, trams, metro and suburban trains operated by the ZTM company.
Tickets can be bought at the machines conveniently placed at stops and metro stations, from the ticket vendors at bigger metro stations and at some newsstands. A 20 minute ticket (bilet 20-minutowy) costs 3.40 PLN and is valid for unlimited number of rides for the 20 minutes after its validation. A transfer ticket (bilet jednorazowy przesiadkowy) costs 4.40 PLN and is valid for 75 minutes on any number of rides. There is also a one-day ticket (bilet dobowy) that costs 15 PLN and allows for an unlimited number of rides for 24 hours after the validation. All these tickets should be validated once, at the machine inside the first bus or tram you board, or at the entrance gate at the metro station.
Metro trains run until around 00:30 on week days and until 2:30 on weekends. Day buses and trams operate until midnight, but there is also a network of night trams and buses. Schedules are displayed at all stops and stations.
If you are caught riding the city transport without a validated ticket, you can be fined 159.60 PLN (40 EUR) if you pay on the spot, or more if you pay the fine later.
Emergency Number
Any kind of emergency: 112
Ambulance: 999
Fire brigade: 998
Police: 997