Creator, Rebel, Guardian, Unsuspecting User. Teachers and Modern Educational Practices
CREATOR, REBEL, GUARDIAN, UNSUSPECTING USER. TEACHERS AND MODERN EDUCATIONAL PRACTICES.
We asked thirty teachers from five European countries (Estonia, France, the Netherlands, Germany and Poland) about copyright in schools. Our respondents included teachers implementing education innovations and actively using new technologies. What are our findings?
TEACHERS' ROLES RELATED TO COPYRIGHT
Creator, Guardian, Rebel and Unsuspecting User are the four most common roles teachers play when it comes to copyright. These roles depend on the level of familiarity with new technologies and the degree to which they consider educational objectives to be more important than copyright protection (or conversely).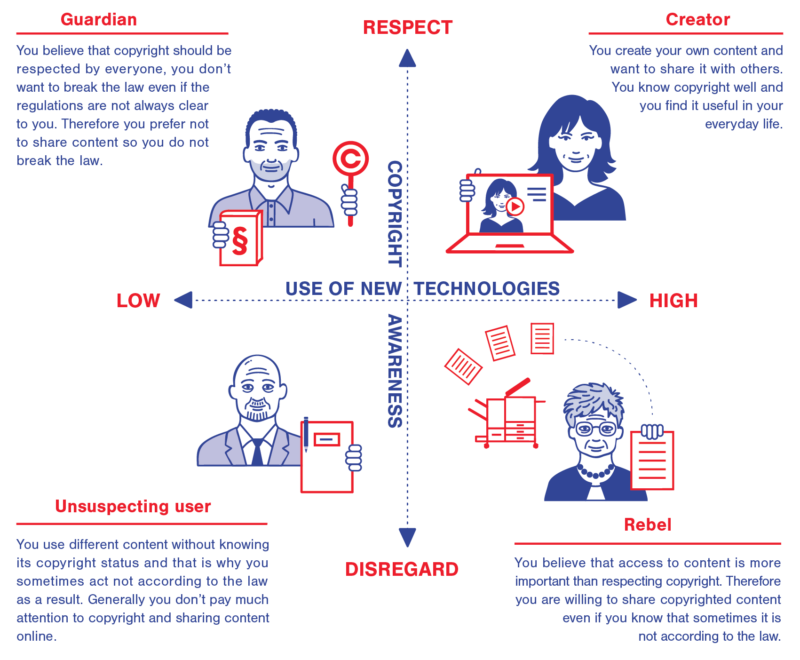 HOW TEACHERS UNDERSTAND THE TERM "COPYRIGHT"
Teachers perceive copyright law as a term that is full of contradictions. Copyrights is perceived as something positive if teachers see themselves as creators protected by those rights, usually as creators of some kind of educational materials. Negative associations emerge when thinking about copyright as a market mechanism whereby commercial entities, frequently perceived as monopolizing access to culture earn money.
Nevertheless, most teachers are bereft of copyright knowledge. They are not taught copyright during their studies, nor do they obtain any support from their own schools or the education system. In their case, copyright prevents them from using digital resources and expanding the range of materials they use.
To learn more about our study's findings download the report:
Want to find out what is YOUR attitude to copyright? Check our quiz and find out what type of internet user are you!