Let's make copyright right. Right now. For education.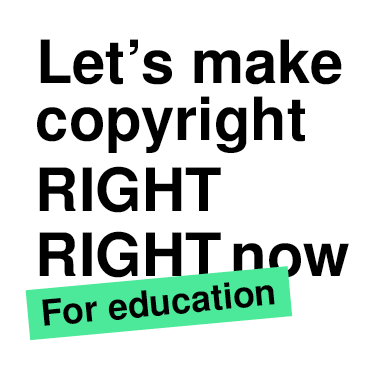 Can every teacher in Europe display YouTube videos during his or her lesson? Or photocopy the entire book for their students? Share the images found in the Internet? The answer is – no, not every of them and not everywhere.
The rules that govern what is allowed and what is not allowed for the educator are very varied in the European Union. They often do not follow the quickly changing reality, and in particular the development of the new technologies. And things should not be like that.
Within the Communia Association we prepared a European informative campaign. Its purpose is clear: to correct the law so that it allows for a good quality education in Europe. We would like to improve the copyright for education. An opportunity for that is the reform of the European copyright currently in progress in Europe.
We would like to do it together with you – European educators and policy experts. More information is available on the website of our campaign. You can also sign our petition there..
The purpose of the campaign
We launched a website in several language versions. With the website, we would like to collect petitions from teachers, educators, and all persons for whom education is an important issue. Signing the petition takes a minute and the effect might be really worth it: good copyright for education. We would like all educators to be able to do their activities freely, use new technologies, share their knowledge and resources without fearing for the legal consequences. The campaign will last until mid-May, and then its results will be presented to the European Parliament.
Why copyright is important for education?
The Internet has turned copyright into an important topic in schools. Copying web content and sharing and exchanging proprietary materials compel teachers to pose questions regarding legal issues. But most teachers are bereft of copyright knowledge. They are not taught copyright during their studies, nor do they obtain any support from their own schools or the education system. In many cases, fear of breaking the law prevents them from using digital resources and expanding the range of materials they use. Furthermore, European countries have implemented EU copyright legislation in various ways. This is why it is very difficult to determine what, where and to what extent is allowed, particularly is we are dealing with cross-border education. In addition, the freedoms applicable in schools often do not apply to educators in other institutions such as libraries, museums or non-governmental organisations. We would like to change that. So that the educators may teach freely in schools and in other institutions,  use modern technology and the copyright is not an obstacle for them. To find out more about how innovative teachers use new technology and what is their attitude to copyright check the report: Creator, rebel, guardian, unsuspecting user. Teachers and modern educational practices.
Why now?
The European Commission has prepared a project of amendments in copyright, which was heard by the European Parliament  – it is the first of such comprehensive initiatives concerning the copyright since more than a decade. Unfortunately, not all changes that have been proposed are, in our opinion, good for the development of education. Now is the moment when we can share our point of view and make harmful solutions corrected. If we do not use this opportunity, the bad provisions might be adopted and be in effect for the next decade, hindering the development of education throughout Europe. That is why we have to act now.
Why together?
The European Parliament is going to vote over the proposal of the European Commission. The MPs collect the opinions regarding the proposed changes and, on that basis will decide how to vote. If we want them to consider our opinion, we have to make them hear us, we have to act together. That is why it is so important that as many people a possible sign the petition. We prepared our campaign in various language versions. We are currently launching other versions – because other countries join the initiative. If we want good cross-border copyright for education, we have to act together, because then we are going to be heard.
How you can get involved?
Visit the campaign's website, and if you want to make the copyright right for education, sign the petition. Then, share the information about the campaign with others – via e-mail or via social media. On the campaign's website you can find sample tweets, posts and images. Join us!
If you have any questions contact us at: ojurkowska@centrumcyfrowe.pl
The campaign is a part of a project  Copyright for Education financed by  Open Society Foundation.